Nick Vest - A selection of work 2019 -2021




My goal in making is to end up with an interesting object. My work grows and changes quite often, with different bodies sharing techniques, themes, and lessons. I keep a lot of different projects active at all times. Many of them don't come to anything, but they have legacies. I very rarely "test" in the normal ceramic sense anymore, maybe that's a product of Jingdezhen convenience. Everything is a test in my studio, because the goal isn't to perfect a thing or a process and then repeat until death or arthritis, but just to make a good thing, right then, and if I fail I'll have likely set myself up for some minor success later.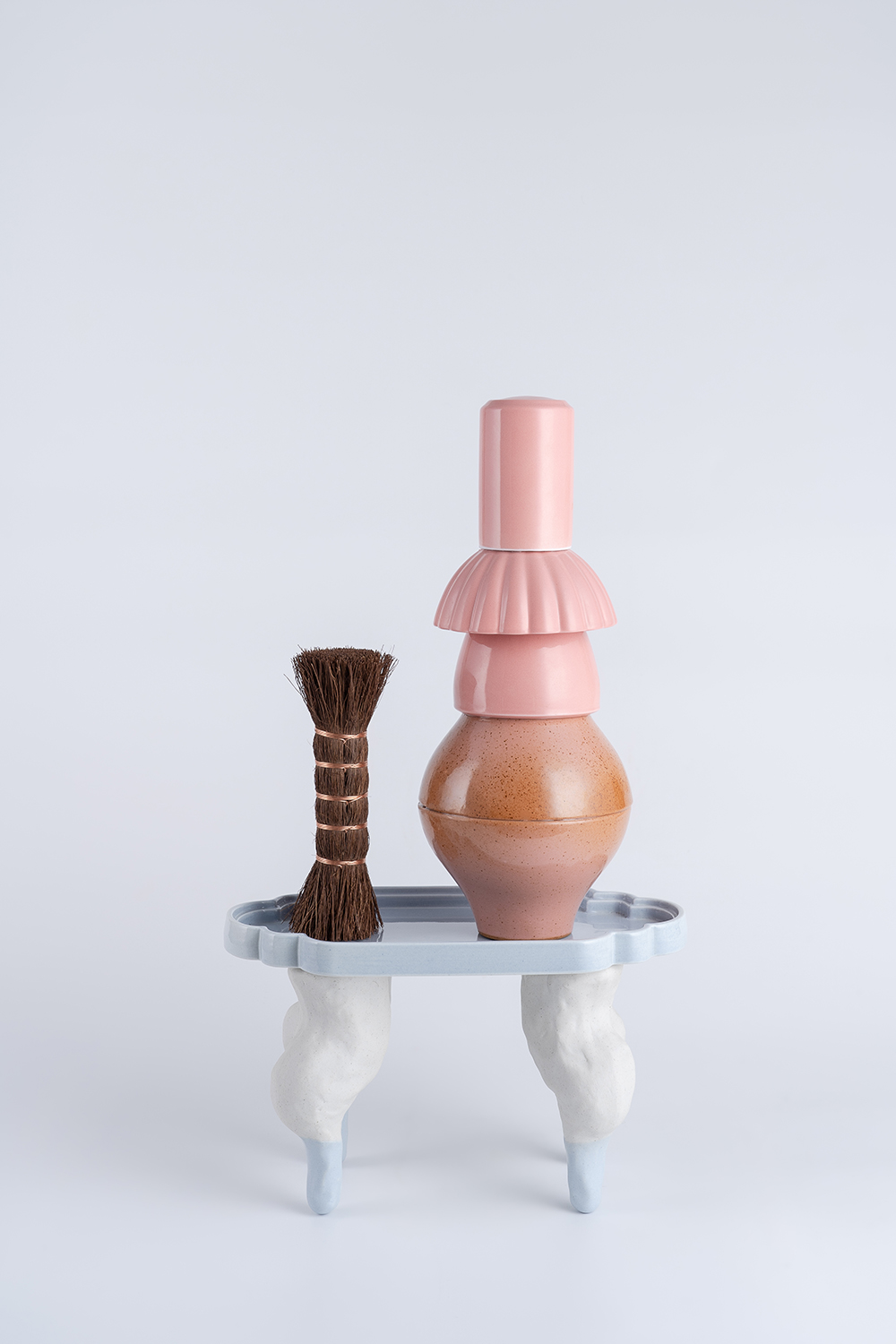 The Non-Specific Monument series (2019) was new for me in its forms and content, but also involved the well loved studio art of pot stacking. When I started making these pieces I was thinking of traditional Chinese votive furniture and ancestral shrine arrangements, and wanted to make something that had some of the same delicacy and permanence and purposefulness, without evoking any specific references.






Development, 2018, Porcelain, Sprayed Slip, Glaze, 18" x 9" x 2" (each box)





Side Salad, which was the title of the original set of objects like these to which I had attached Cat's Meow Village painted wood tiles from my grandmothers house. I had made that work while thinking of America but mostly trying to create an interaction between the two types of construction used in the pieces. The pieces really didn't do what I wanted them to do but the boxes, which were made by a slab builder for hire in our neighborhood, really took over and made the whole thing something architectural, which left the coils as a kind of root system which influenced this series which has what I now kind of think is kind of an unfortunate title "Development."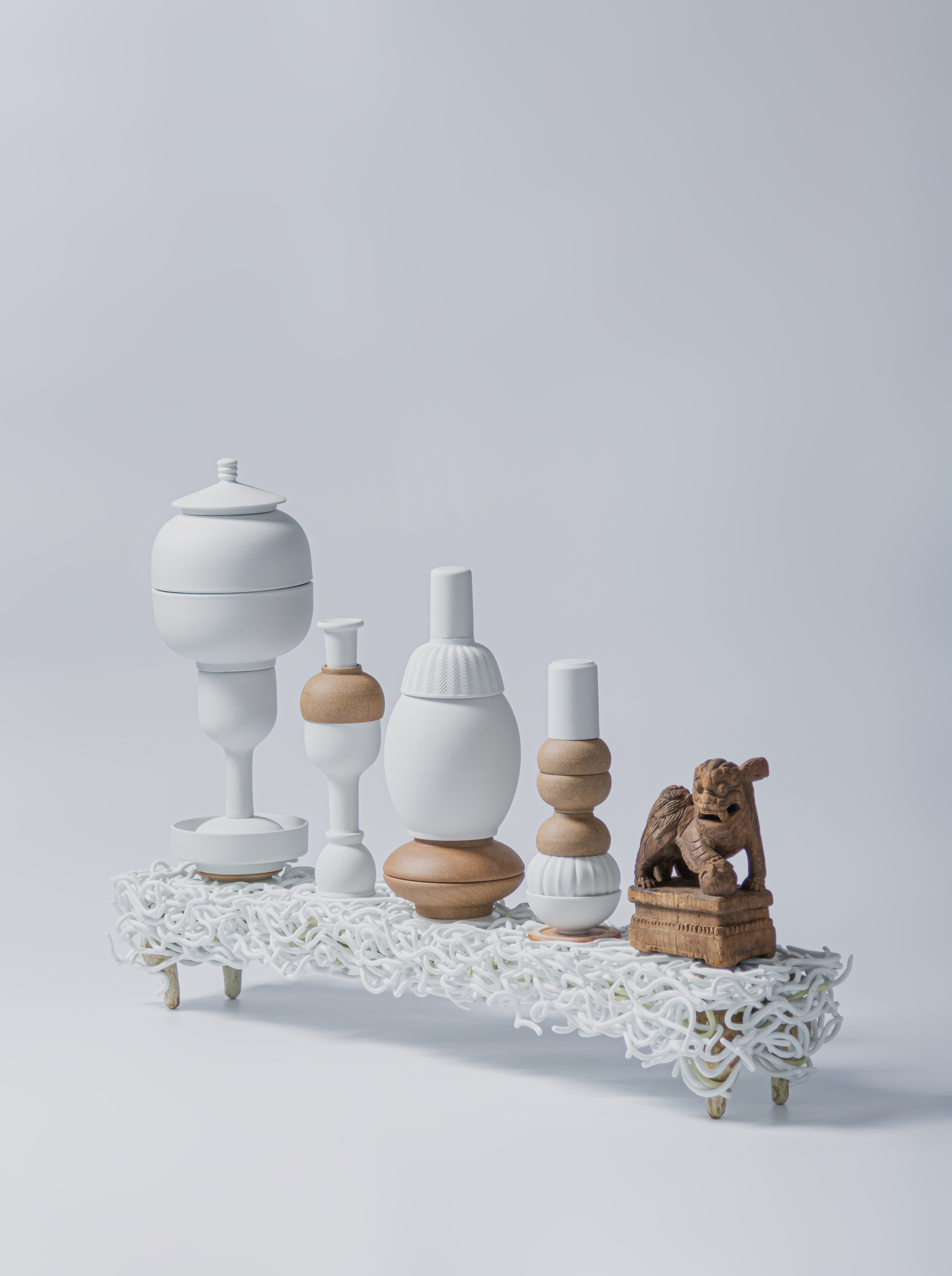 Coiled History #1, 2021, Porcelain, Stoneware, Glaze, Wooden Figure, 24" x 36" x 5"
Coiled Histroy #3, 2021, Porcelain, glaze, antique vase and figurine, pictured with bamboo sprouts, 24" x 13" x 13"



The newest works in this family are lumped together for now under the name Coiled Histories. Both were made for the Jingdezhen ceramic biennale in 2021 (one got in). I used the building blocks of those earlier pieces and blended them in a way that reflected the call for entries. In the first I tried to turn the pot stacks into the architectural forms that the boxes had ended up as in Development. I was playing with illustrating the shifts of the city in the midst of widescale construction projects and transformation. For #3 I made a model and mold that turned the foot of the piece into a long stem vase, and combined the piece with a "tang dynasty" figurine and a genuine early to mid 20th century ceramic canteen. Found objects in these two were part of the plan, but for me more often are kind of gold star. When I'm making something for the first time the rate of failure and of ideas not holding up in real life is kind of high, so a good result is really exciting. For me that excitement usually translates into epoxying something sacred to the thing that turned out well and pricing it way above market.


These three series all come from my Jingdezhen studio in the same relative period of time, when I was pushing to make smaller works that could hold a place in a more intimate setting than a gallery. There are lessons learned in these series, and points of failure and intrigue that I can come back to. I require pretty constant change in my practice, but I think combining that change with an ability to archive, reuse, and adapt keeps each new object contemplative and richly layered, hopefully without too much pretense. That for me is the underlying goal.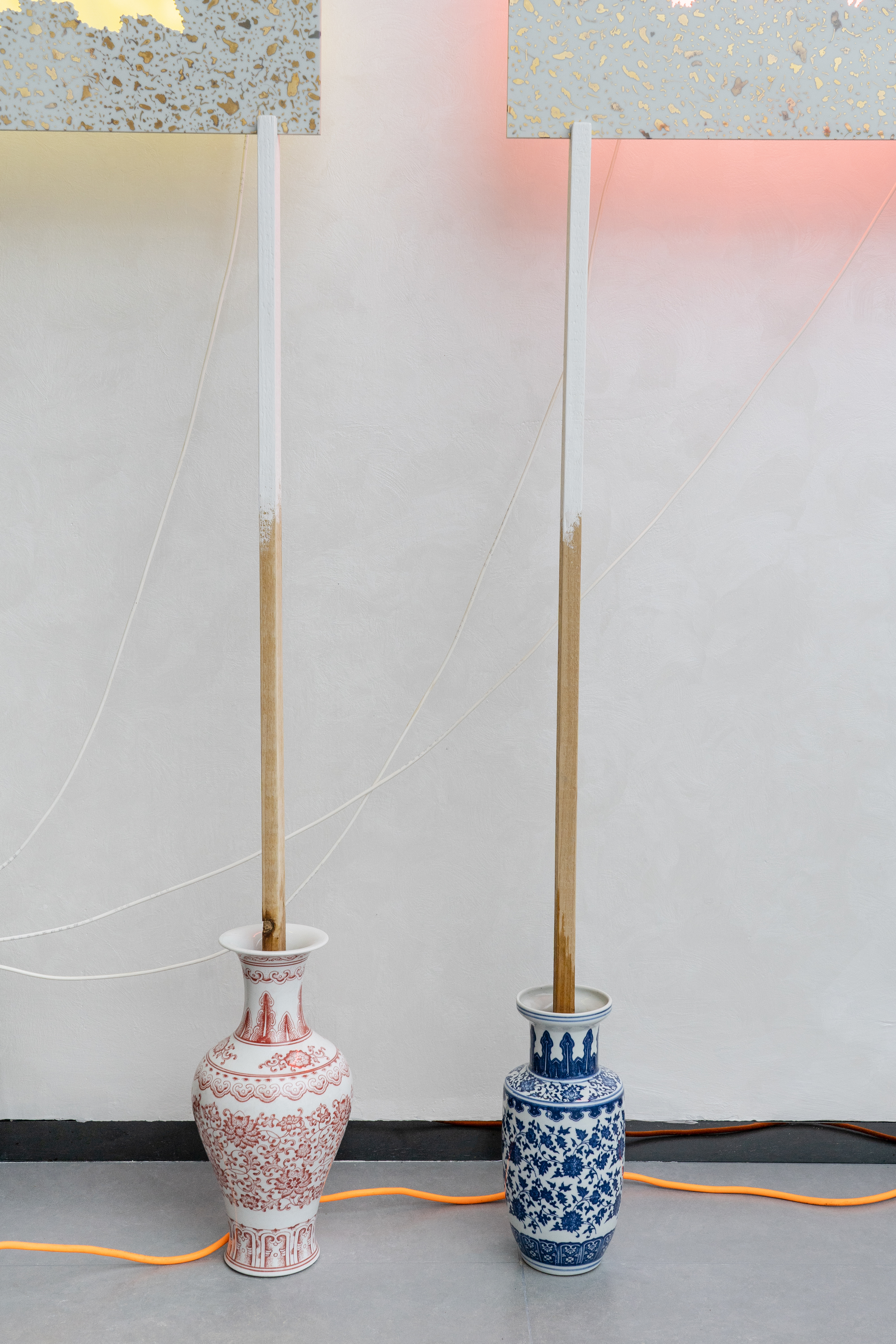 ---
Too Distinct, Art Objects, 2021, Water Jet Cut Porcelain tiles in the likeness of pages from The Shahnama, gold luster, bent glass in the shape of the words "racism" and "cancer", argon gas, wood, latex paint, antique folk pottery likely early 20th century, factory porcelain vase, hand painted porcelain vase, extension cord, 72" x 56" x 8" dimensions variable





My work is often not communicative of anything precise. To me there are usually better ways to share an idea than to make a piece of art specifically to do so, and usually there are better decisions to be made about a piece of work during making and presentation than those that need to be made to preserve cut and clarity of what it is being communicated. When I do make a work around something specific I think is worth saying to the people who will be listening to it I do my best to step away from the interaction after preparing both sides. To me it would be really silly to go through the process of creating an artwork to communicate an idea to the relatively small and homogenous audience that I have just to undercut it and write the idea on the wall. Failures for me with works like this don't happen when a person walks away not knowing for sure what I wanted them to be thinking about, but when they walk away believing the work had nothing to say. The arrangement pictured here was shown in the Sanbao Ceramic Valley Art Museum and is part of a growing body of work begun in 2020.









Nick Vest (b. 1990, Pennsylvania) Is a sculptor based in Jingdezhen, China with a studio practice combining material expertise, philosophical meandering, and a relationship with decision making that leads to an ever changing, multilayered stream of sometimes unrelated propositions in object form. The specific importance of these objects is something that is felt but rarely communicated as directly. Nick's work, produced in many countries over his career, seems to be often grasping for a wordless world in which it is the responsibility of the viewed to present itself as valuable and the viewer to diagnose how it is so.

Nick has work housed in public and private collections throughout Asia, Europe, and North America. Along with his wife and fellow artist Zhou YuYe he owns and runs MenLo Studio and Gallery in Jingdezhen, which provides exhibition and residency opportunities to international ceramic artists and emerging Chinese artists across media. Having lived and worked abroad since exiting academia with his MFA and BFA from Kansas State and Alfred University respectively, his current residence at the American Museum of Ceramic Art marks his first turn in the US as a professional.